Vertical Turbine Pump Automatic Lubrication
Oil Lubrication Control & Monitoring Devices
H&H oil lubrication devices protect and manage vertical turbine pumps lubrication.
The devices are gravity-based and can be implemented wherever gravity-based lubrication is preferred.
Protecting Line Shaft Bearings
Improper lubrication of the line-shaft in vertical turbine pumps results in premature deterioration of the shaft bearings.
Approximately 80% of all bearing failures are caused by a lack of lubricating oil.
Instability of the drip rate is due to:

Viscosity variations.
Hydrostatic pressure variations.
Dirt particulate blockage.

Line shaft repairs are very costly and time consuming.
Groundwater contamination is caused by over-lubrication of the line shaft.
H&H Solutions
H&H vertical turbine pump oilers monitor and control line shaft lubrication to minimize bearing failure and ground water contamination and thus save huge amounts of money spent on premature degradation of line shaft bearings, oil consumption, and labor costs.
H&H oil lubrication products include the DripDoser, the DripMaster series and the DripGard.
The DripMaster (EDD series)  – is an active vertical turbine pump. A gravity, control and monitoring lubrication oiler that maintains a constant oil drip rate.
The  DripMaster is designed to maintain a constant oil drip rate while reporting back to the SCADA / cloud and shutting down the pump in case of lubrication risk. By stabilizing the oil drip rate, the DripMaster overcomes oil drip rate instability caused by the following:
Oil viscosity variations.
Oil hydrostatic pressure variations.
Oil dirt particulate blockage.
The DripMaster reduces oil consumption and drastically reduces the amount of oil dripping into the aquifer, thereby minimizing groundwater contamination.
 
The DripDoser –is a gravity-based oiler for Vertical Turbine Pump that will save you thousands of dollars and costly down time.
Reduces pump maintenance costs.
Reduces labor cost – checking oil levels and adjusting drip rate.
Reduces oil consumption and prevents well contamination.
Maintains constant oil drip rate.
Protects your irrigation turbine pump from running dry:

Detects loss of oil supply.
Detects clogged or pinched delivery line.

Automatic pump shutdown.
Telemetry compatible remote control and monitoring.
Maintenance free and easy to install.
Operates under extreme weather conditions.
Low price – outlay quickly repaid.
The Dripgard – is a passive vertical turbine pump gravity-based oil lubrication monitoring, and protection oiler. The main purpose of the Dripgard is to signal when the oil drip rate falls below a predetermined low level (for any reason) while reporting back to the SCADA / cloud and shutting down the pump in case of lubrication risk.
By ensuring a constant lubrication when the pump is operational, the Dripgard prolongs the life of the pump, saving money on oil consumption, and minimizing groundwater contamination.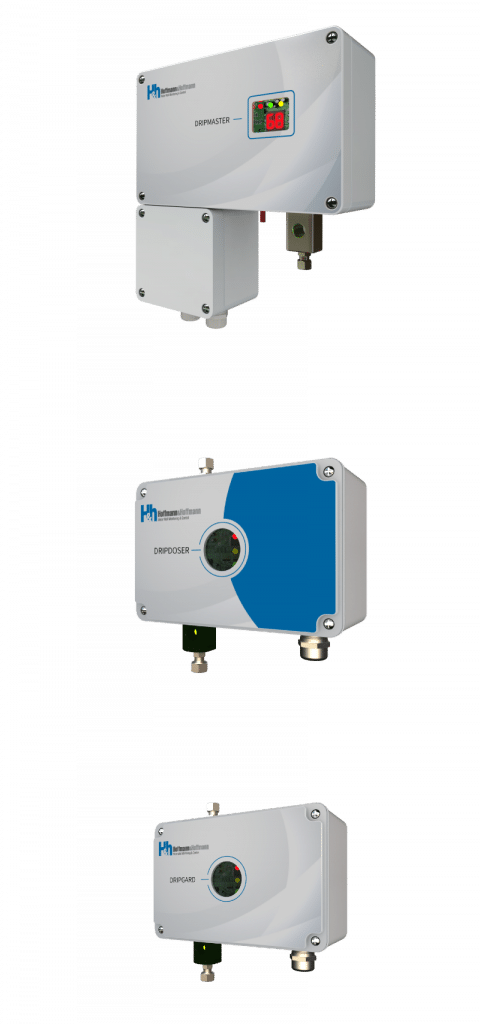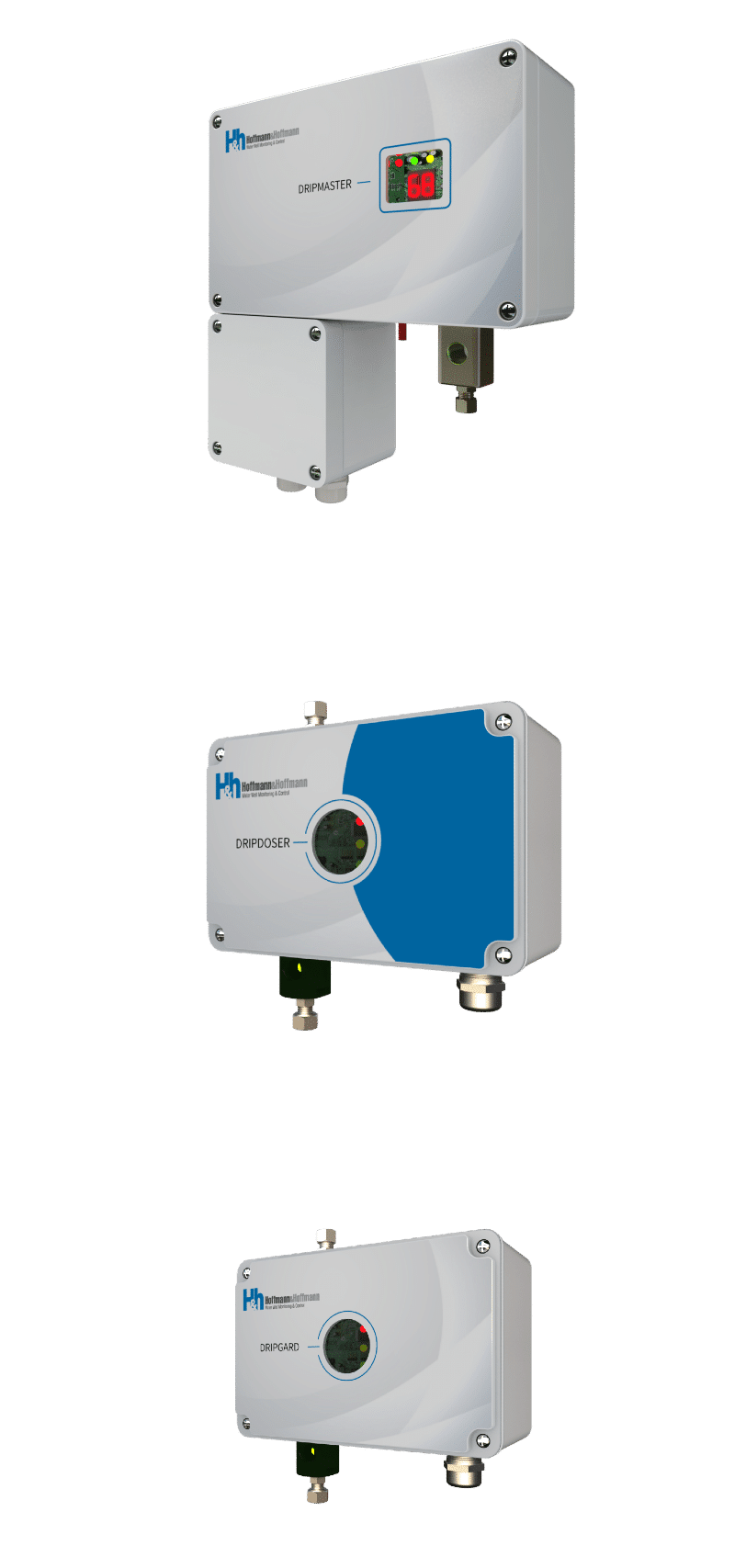 Comparison table of Hoffmann & Hoffmann VTP Lubrication Devices
Dripmaster
Fully automatic active devices
Dosing the needed number of drops based on a one-minute cycle

Manual fine adjustment of the needle valve

Fail-safe output dry contacts

Separate alarm output contact

Pulse for each drop by dry reed relay contact

Ability to have oil drops in case of no electrical feed

Heavy-duty outdoor enclosure

Select 110VAC, 220VAC, or 24VDC as needed on order

Visual peephole for viewing drops

Continuous and evenly-spaced oil drops

Flushing correction mode for a possibly clogged needle valve
Dripdoser
An active doser with alarms
Dosing the needed number of drops based on a one-minute cycle

Fail-safe output dry contacts

Separate alarm output contact

Heavy-duty outdoor enclosure

110VAC, 220 VAC, or 24VDC

Visual peephole for viewing drops

Easy connection to SCADA / c systems via dry, floating contactsX
Dripgard
A passive alarm shutdown device
Manual fine adjustment of the needle valve

Fail-safe output dry contacts

Pulse for each drop by dry reed relay contact

Ability to have oil drops in case of no electrical feed

Heavy-duty outdoor enclosure

110VAC, 220 VAC, or 24VDC

Visual peephole for viewing drops

Easy connection to SCADA / c systems via dry, floating